_
Mission:
The Half Century Club provides a year round opportunity for soccer players, age 45+, to play soccer in an environment that promotes enjoyment of the game while reducing the risk of injury. We provide a wide range of soccer playing opportunities to support many different levels of skill and fitness.
History:
The Half Century Club (HCC) was started in 2000 by Ed Sabin and Doug Sowers with a small group of soccer friends to give themselves an opportunity to enjoy soccer without getting hurt. Their original mission has been very successful; HCC now has over 100 rostered players ranging in age from 45 to 74. It is estimated that in 2012, HCC sponsored 2,750 soccer-player hours. This included year-round Sunday afternoon pick-up games, a 7v7 tournament in July, 7v7 tournament n August, a Day-After-Thanksgiving tournament, a Boxing Day tournament, 2 teams in the Metro league, and in January sending 3 teams to a Florida tournament.
Organization:
Half Century Club, Inc. is an Illinois non-profit corporation formed 6 October 2011. The board of directors is active in insuring that the mission is followed by approving, planning, and organizing events and programs, as well as reviewing the results with an eye towards improvement. The Half Century Club board of directors:
___President: Ed Sabin
___Secretary: Tony Birchall
___Treasurer and play coordinator: Rick Warren
___Directors: Hudson Fortune, Larry Gentile, Jim Royer, Tim Whelan
Rules:
One of the keys to the Half Century Club success is strict adherence to HCC safety rules that prevent rough play. Hard contact is forbidden even if it's FIFA legal. All players are expected to conduct themselves in a sportsman like manner and to represent our HCC group well. Violators are subject to board sanctions including probation and suspension.
Affiliates:
Thank you to our affiliates of:
Wheatland Athletic Association           Team Chicago
http://WAASports.org                           http://TeamChicagoSoccer.org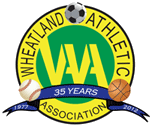 PlayUSA
http://PlayUSASoccer.org

Questions email: Ed Sabin